Are you looking online for a private fertility test in Glasgow? ABC4D provides fertility tests in a professional & comfortable environment, perfectly suited to your needs. Searching online for a trusted clinic to get an ultrasound scan in Glasgow? ABC4D is an excellent choice for you. We have conducted over sixty thousand baby scans since opening our doors in 2012, and have earned a stellar reputation across Scotland for our exceptional patient care. Our specialist in-house clinicians are the perfect to guide you through the ultrasound scanning process. They each have extensive experience and ongoing training to ensure that you are supported and comfortable at the utmost standards We know first hand - whether it is your first time or not - just how anxious a time pregnancy can be. The clinician dedicated to your case will fully inform you and settle any concerns you have. We are open and transparent from the outset about what we are doing, why, and what the implications of the scan are for you and your pregnancy journey.
Book Scan Now
Promoting Health & Reassurance
At ABC4D, health & reassurance is paramount and all our baby scans include an essential baby wellbeing health check (Some clinics are not registered or insured to do this.)Our family friendly clinics welcome the whole family including children and our scanning rooms accommodate the client and 4+ guests in comfort.
Private Ultrasound Scans Glasgow
How To Get A Private Ultrasound Scan at ABC4D:
The first step lies with you. Simply reach out to us when it suits you to make a booking or ask us any questions you may have.

For bookings, you can access our online system 24/7 right

here.
Alternatively, get in touch via email on

[email protected]

or call our service team on

0800 999 5123

(Monday to Friday: 9am – 5pm) 

Once your ultrasound scan is booked and confirmed at our Glasgow clinic, turn up on the day and we will take care of you.

To protect our staff and you and your loved ones, we strictly follow the most current Scottish Government COVID-19 guidelines. We thank you for your understanding and cooperation during these unprecedented times. 
We allow the client plus 3 guests from 2 households including siblings into the appointment.
What does an abdominal ultrasound scan show you?
We conduct our ultrasound scans so that you, your doctor, and midwife can have an understanding of

how your baby is developing and growing

(for example, their bones and organs) and the health of their

heartbeat

. Importantly, we can identify if you are having

more than one baby

or not

From an ultrasound scan, we can assess the

size of your baby

at that point in time, and make a determination of a

more accurate due date
We can also look at the position your baby is laying in, and whether your placenta is positioned low, or across your cervix – all of this is really crucial to know ahead of giving birth to your child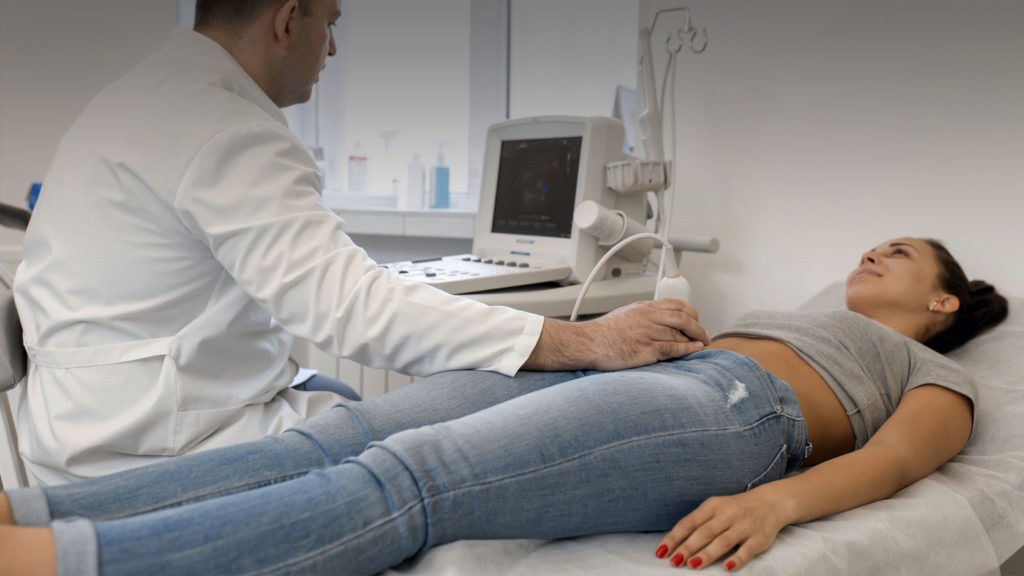 When should you get an ultrasound scan?
At ABC4D Glasgow, we can offer you an ultrasound scan between 11 and 14 weeks as an early pregnancy scan
Between 18 and 21 weeks, we can bring you in for a mid-pregnancy ultrasound scan
How much does a private ultrasound scan cost at ABC4D?
Once you book an appointment, we will outline the cost based on your individual needs.
We hope we have covered all of your burning questions related to ultrasound scans. We would be honoured to help you move through your pregnancy journey with clarity and comfort.
If our Glasgow clinic is most convenient for you to visit, book in with us today!

Book Scan Now